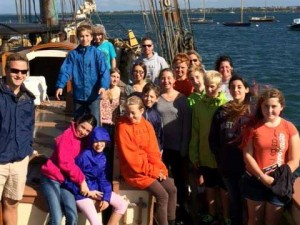 Teen Enrichment is a newly developed program by the Nantucket Community School. We aim to serve the enrichment needs of our Island's teens while educating them through a variety of experiences. Teen Enrichment encompasses leadership, education, fitness, community initiatives (youth leadership & business), art programs, foreign language and much more.  Check out one of our programs today for the unique opportunity to have fun and make new friends!
Teen Enrichment 
---
Instructor:       Lorna Dollery
Grades:            6-12
Time:                3:00pm – 4:00pm
Dates:               Fridays–April 28; May 12, 19, 26; June 2, 9.
Location:         Cyrus Pierce Middle School – Dance Studio
Fee:                  $150
Fostering empowerment in our island's youth through this safe, fun and inclusive group boxing course. Utilizing partner work in a group setting, non-contact boxing training techniques are used to improve fitness, increase strength and muscle endurance, boost confidence and encourage positive body image and self-belief. Suitable for all levels.
---
Instructor:           USPTA Certified instructor Michael Harter
Grades:                 6-12
Time:                     3:00pm – 3:50pm
Dates:                   Thursday –April 27; May 4, 18, 25; June 1.
Location:             Jetties Beach Tennis Courts – 2 Bathing Beach Rd.
Fee:                        $125
Join us this Spring for some tennis fun in the sun. All levels are welcome to participate in our Tennis Clinics at Jetties. This is perfect for the beginner-advanced player looking to refine their skills and become a better all-around tennis player. Taught by USPTA certified Tennis Instructor Michael Harter these clinics are offered during the Fall and Spring seasons at the Jetties Beach Tennis Courts. Balls and rackets are provided (if you have your own racket please feel free to bring it) the courts are fully protected by wind screens. Please bring a refillable water bottle!
---
Y.E.L.L. – Youth Empowering Lasting Leadership
Facilitators:       SRO Cassie Thompson, Caitlin Waddington & Blair Jannelle
Grades:               6-8
Time:                   2:30pm-3:45pm
Dates:                  May 3, 17; June 7
Fee:                      FREE
Location:            CPS Dance Studio
Y.E.L.L. is a free youth leadership program that is open to all 6th, 7th & 8th grade students on Nantucket. Community leaders present a diverse array of topics to the participants and afterwards the students have a chance to react and share their thoughts on subject matters. This year we will be taking a number of educational field trips around the island. YELL is facilitated by a collaboration between the Nantucket Police Department and The Nantucket Community School.  Generous financial sponsors include ASAP Nantucket and The Nantucket Yacht Club.
---
Interested in any of those classes?  Click to sign up to the Nantucket Community School Teen Enrichment mailing list! 
Questions? Contact Blair Jannelle at 508-228-7285 x1576 or send an email to jannelleb@nps.k12.ma.us
---

Blair Jannelle serves as the Coordinator of the Teen Enrichment, Sports Camps and Community Recreation programs at the Nantucket Community School. Blair is a native of Nantucket Island and his family owns and operates Fifty-Six Union restaurant on the island (if you haven't been you must try it). After receiving his diploma at Nantucket High School, Blair attended Coastal Carolina University where he earned a Bachelor's degree in Recreation & Sports Management with an academic minor in Spanish. Blair returned to the Island after serving as a marketing intern for the Hurricane Junior Golf Tour in Jacksonville, FL. Blair has been working  with the Nantucket Community School in various capacities since Summer 2013 and as a program coordinator since April of 2014.