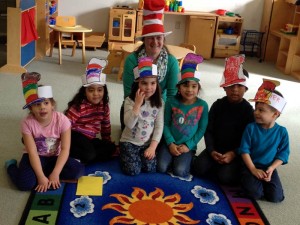 Our Early Childhood Education & Enrichment programs are made possible through collaboration between the Town of Nantucket, the Nantucket Public Schools, and the Massachusetts Department of Early Education and Care (EEC).  All of our FREE, exciting, and enriching programs for children birth to eight years of age are funded, in part, through the EEC's Coordinated Family and Community Engagement (CFCE) grant.
Additional support has been provided through Nantucket's generous community members and several philanthropic foundations including The Community Foundation for Nantucket (The Nantucket Fund™, the Remain Nantucket Fund), the Tupancy Harris Foundation, and the Nantucket Golf Club Foundation.
Be sure to join a playgroup, attend a parent education class, or come by one of our fun family events!
If you have any parenting questions about your child, please contact one of our Early Childhood Education Specialists who will assist you or connect you with the pertinent island resource. Our team is here to support ALL island families!
---
Resources
---
Parent Child Plus (PC+) Information
---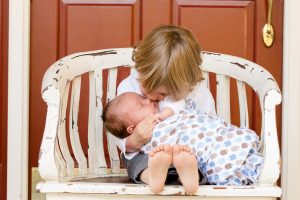 Sign Up for Welcome Baby/Welcome Family Visit
We'd love to meet your family!
Click here to sign up.
---
ASQ (Ages and Stages Questionnaires)

Do you have questions about your child's development? Are you interested in learning new activities to help your child learn and grow? The ASQ developmental screening tool can help you with that. Please click here to request a screening. We'll be in touch.
---
Licensed Daycare and Preschool Providers
Please click on the link below for a list of current Licensed Daycare and Preschool providers on Nantucket.  *Please note: some licensed providers choose not be listed and can be found on the Department of Early Education and Care website.
Licensed Preschool and Daycares on Nantucket
---
Early Childhood Advisory Council
We host meetings for the Early Childhood Advisory Council (ECAC). Meetings will be held on the following Mondays: November 20, January 22, March 18, and May 20. If you would like to be part of shaping the lives of young children on Nantucket, please join us! All Early Childhood Advisory Council meetings will be held virtually from 4-5 p.m. and are open to the public. If you would like to attend, please email croninp@npsk.org for the link.
Nantucket Community School hosts quarterly round-table meetings for all childcare providers on Nantucket. These meetings offer the opportunity to connect with other center and home-based providers while sharing ideas and learning about training resources and services available both on and off island. To be included on the email distribution list for meeting reminders, please contact Pauline Cronin at croninp@npsk.org or 508-228-7285 x1166.
---
Do you have any program questions or want to share new ideas?  Please contact one of our Early Childhood Education Specialists listed below: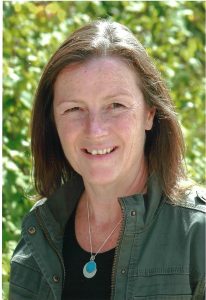 Pauline Cronin began working with Nantucket Community School as a playgroup facilitator when her son James was a year old and the Early Childhood Program was known as the Community Network for Children. Her roles within the Early Childhood department continued to grow over the years and she is currently the Early Childhood Education Coordinator. She enjoys being part of a dedicated team of program facilitators and outreach personnel. Pauline was born in Scotland but has lived in many different places such as Germany, England, Northern Ireland and Canada. She completed her BA in Hospitality Management at Napier University in Edinburgh, Scotland. Pauline has lived in Nantucket for 23 years and is the proud parent of one Nantucket Native and one Cape Codder!
Pauline can be reached at croninp@npsk.org or 508-228-7285 x1166.
---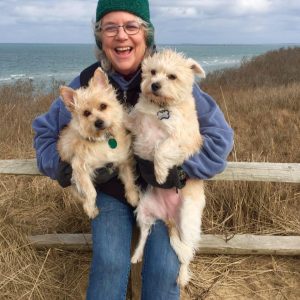 Susan Richards began working as an early childhood educator soon after completing her education at Ithaca College and Boston University in the mid-1970's.  She helped create Needham Children's Center and taught there for several years before moving to Vermont and becoming the founding director of Charlotte Children's Center, just south of Burlington.
Susan  then went on to combine her love of literacy with her early childhood background to become Children's Librarian at Essex Free Library, going on to spend her final years in Vermont as a Child Care Referral Specialist at Child Care Resource.
After moving full-time to Nantucket in 2011, she quickly found a connection with the Community School and began her role as Family Education and Outreach Specialist in 2012. She also works several hours a week as the Humane Educator at the island animal shelter, NiSHA. Susan lives out on the Madaket end of the island with her husband, Peter, and three rescue animals – two dogs and one cat. She and Peter have an adult son, Parker, who currently lives in Brooklyn and works as a staff editor at the New York Times.
Susan can be reached at richardss@npsk.org or 508-228-7285 x1573.
---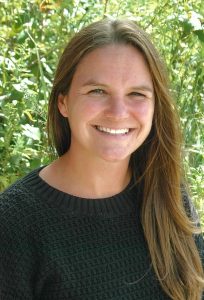 An additional team member is Kerrie Willis (Program Assistant), who is an essential part of the Early Childhood team.
Kerrie was born and raised in Foxborough, MA. She moved to Nantucket in 2006 and started attending playgroups at the Nantucket Community School with her then 6-month-old daughter. She began facilitating playgroups for NCS at that time and came on staff part-time five years ago. Kerrie lives on the island with her husband, Chuck, and two daughters, Aubrey and Charlotte. She said she loves living on Nantucket because of the wonderful community and beautiful nature surrounding us.
Kerrie can be reached at willisk@npsk.org.